______                           _    __      _     __
   / ____/___  _________  ____ __  _| |  / /___  (_)___/ /
  / /_  / __ \/ ___/ __ \/ __ `/ |/_/ | / / __ \/ / __  / 
 / __/ / /_/ / /  / / / / /_/ />  < | |/ / /_/ / / /_/ /  
/_/    \____/_/  /_/ /_/\__,_/_/|_| |___/\____/_/\__,_/   

BANDCAMP | YOUTUBE | TUMBLR | SOUNDCLOUD | INSTAGRAM | FACEBOOK | PATREON


---
---

MUSIC

---
FORNAX VOID - CYBERSPACE DATABASE
Cyberspace Database Fornax Void's virtual logbook, documenting the buildup of a synthesizer studio between approx. 2015 and 2018. Initially released in January 2017 with 16 tracks, the database continuously grew and is planned to be completed in 2018.

GENRE ambient, cyberpunk, semiconductorwave
RUNNING TIME ~ 2 hours 55 minutes
YEAR 2017

INSTRUMENTS USED ON THIS ALBUM
Roland JV-2080, Roland D-05, Oberheim Xpander, Korg M1R, Korg M1 Legacy Plugin, Korg WaveStation Legacy Plugin, Korg Poly 800 MK2, Casio CZ-5000, R.E.A. YM3812, Yamaha PSR-47, Yamaha PSR-60, Yamaha Reface CS, Yamaha DX21, Yamaha FB-01, YM3812 (OPL2), Arturia Minibrute, Waldorf Rocket.
---
FORNAX VOID - TOMES OF EREBUS
Short album concept sketch, made within three nights, without the use of computers or sequencers. Recorded to 4-track tape. Mastered to VHS.

GENRE ambient, dark ambient, experimental
RUNNING TIME 14 minutes
YEAR 2016

INSTRUMENTS USED ON THIS ALBUM
Korg Poly 800 MK2, Casio SA-65
---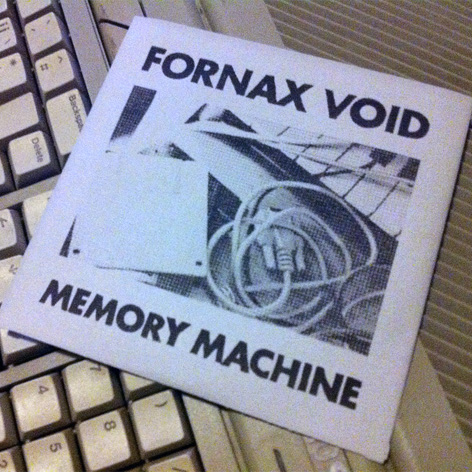 FORNAX VOID - MEMORY MACHINE
Memory Machine is Fornax Void's musical interpretation of computer nostalgia. The album was created using wavetable synthesis, electronic and acoustic instruments, experimental analog and digital audio manipulation and editing techniques.

GENRE ambient, semiconductorwave
RUNNING TIME 73:29 minutes
YEAR 2010

INSTRUMENTS USED ON THIS ALBUM
SQ8L, Roland RE-201 Space Echo, E-Guitar, E-Bass, Drums, Software Sampling, self-built string instrument.
---
FORNAX VOID - SOUNDCLOUD RELEASES
From time to time I upload an old track, or something I work on at the moment, onto my soundcloud account.
---
ALL CONTENT CREATED BY FORNAX VOID
© 1984-2018 FORNAX VOID ALL RIGHTS RESERVED
LAST UPDATE: 2018-Jul-21, 16:07 / 1532182044
Server time: 2018-Jul-22, 12:11:48 Europe/Zurich
Unix epoch time at last refresh: 1532254308
Swatch Internet Time at last refresh: 466